Tartaglia Lab Web Servers Portal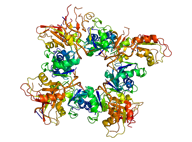 Welcome to Tartaglia's web servers portal!
Here you will find tools for the prediction of protein solubility and protein-RNA interactions.
catRAPID
an algorithm to identify protein-RNA interactions


a tool to predict the solubility of proteins based on their physicochemical properties

cleverSuite
a method for protein characterisation and classification


Some related algorithms (camEL, camLILA, camPZagg, Zyggregator, ...) are available at our previous webpages here

or here

.